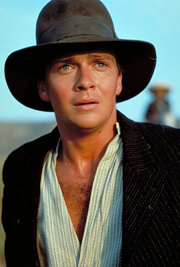 Sean Patrick Flanery (born on 11 October, 1965 in Lake Charles, Louisiana, USA) is an Irish-American actor who was well known for playing Indiana Jones in the TV series The Young Indiana Jones Chronicles. Sean was raised in Houston, Texas, and after being educated at Awty International School, attended the University of St. Thomas in his hometown. Flanery later moved to Los Angeles, California in order to pursue his acting career. Since 1988 Sean has appeared in over 53 films including Boondock Saints, Powder, Simply Irresistible, D-Tox and Saw 3-D.
External links
Edit
Ad blocker interference detected!
Wikia is a free-to-use site that makes money from advertising. We have a modified experience for viewers using ad blockers

Wikia is not accessible if you've made further modifications. Remove the custom ad blocker rule(s) and the page will load as expected.