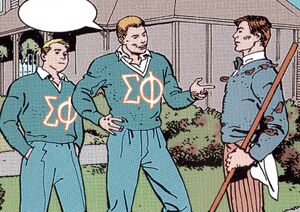 Sigma Phi
was a fraternity that had a chapter at
Barnett College
.
In 1937, four brothers in the fraternity were cruising around the neighborhood when they saw a fight in front of a faculty member's house. Noticing that one of the combatants was Professor Indiana Jones, Winchester stopped the car, and they piled out to his rescue. With four muscular young men coming to change the odds, Carlos and his accomplice hopped into their car and fled. Winchester and his brothers checked on Jones' safety, and Francisca Uribe Del Arco came out and thanked the boys for coming to their aid, and shooed them off. Taking the hint, Jones also politely got the four Sigma Phi brothers to head off for a school rally.
Appearances
Edit
Ad blocker interference detected!
Wikia is a free-to-use site that makes money from advertising. We have a modified experience for viewers using ad blockers

Wikia is not accessible if you've made further modifications. Remove the custom ad blocker rule(s) and the page will load as expected.