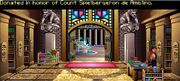 Spielbergeron de Amblino was an Italian count who had a section in the Biblioteca di San Barnaba dedicated to him by 1938.
Behind the scenes
Edit
Spielbergeron is one of many Steven Spielberg references in Indiana Jones and the Last Crusade: The Graphic Adventure. Amblin is Spielberg's production company.
Appearances
Edit
Ad blocker interference detected!
Wikia is a free-to-use site that makes money from advertising. We have a modified experience for viewers using ad blockers

Wikia is not accessible if you've made further modifications. Remove the custom ad blocker rule(s) and the page will load as expected.