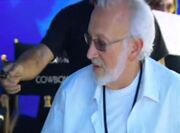 Stan Winston (Born: April 7, 1946 in Richmond, VA; Died: June 15, 2008 in Malibu, CA) was an acclaimed and award-winning make-up and special effects creator who formed his own special effects company: Stan Winston Studio. He also occasionally worked as a second unit director on some of the projects he was involved with.
Winston, who had previously worked on Steven Spielberg's Jurassic Park film franchise, helped supervise the special effects that went into the designs of the interdimensional beings for 2008's Indiana Jones and the Kingdom of the Crystal Skull.
External links
Edit
Ad blocker interference detected!
Wikia is a free-to-use site that makes money from advertising. We have a modified experience for viewers using ad blockers

Wikia is not accessible if you've made further modifications. Remove the custom ad blocker rule(s) and the page will load as expected.