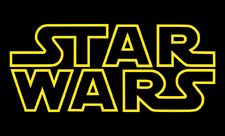 Star Wars is a movie franchise created by George Lucas in 1977, starring Harrison Ford. Although Star Wars and Indiana Jones belong to different franchises and continuities, there have been several connections in the form of in-jokes.
References to Star Wars in Indiana Jones
Edit
Raiders of the Lost Ark
Edit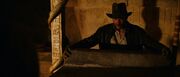 Indiana Jones and the Temple of Doom
Edit
Indiana Jones and the Kingdom of the Crystal Skull
Edit
The Young Indiana Jones Chronicles
Edit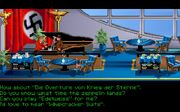 References to Indiana Jones in Star Wars
Edit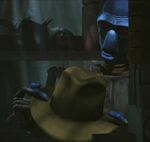 Star Wars: The Clone Wars
LEGO Star Wars: The Quest for R2-D2 features a cameo by Jones.
LEGO Star Wars: Bombad Bounty depicts Boba Fett trying to cross a Death Star hallway to get to Jar Jar Binks. However, he is stopped by three things: Han Solo chasing a small group of stormtroopers, several more stormtroopers chasing Han Solo, and Indiana Jones running from a boulder. Fett gets run over by the boulder, as he attempts to cross the hallway after Jones has passed through.
Star Wars: The Clone Wars: Republic Heroes features an unlockable fedora called "Indy's hat".
The Emperor in Robot Chicken: Star Wars Episode II encourages one of his royal guard to use their "Staff of Ra" in fixing an overhead vent.
LEGO Star Wars III: The Clone Wars: There are three references to Indiana Jones in this game. In the level "The Hidden Enemy", the player must stand on two buttons to reveal Indiana Jones and Henry Jones Sr. tied to a chair behind a bookshelf to collect a special object - a homage to the Castle Brunwald scene in Indiana Jones and the Last Crusade. The second reference is in the level "Ambush". To obtain another special collectible, the player must enter a room similar to the Well of Souls, and find the object inside the Ark of the Covenant by activating it - a reference to Raiders of the Lost Ark. Also, in the bonus mission "Hostage Crisis", the player must activate a screen, and make his/her character jump to make the Indiana Jones on the screen jump as well to complete a small minigame - a strong similarity to the Xbox 360 Kinect and another homage to Indiana Jones.
The first trailer for Star Wars Detours shows Han Solo trying on Indiana Jones' fedora.
Star Wars Galactic Spy: Indiana Jones flees the boulder as part of the Mos Eisley Parade. He appears again facing the Arab Swordsman in the Departure Lounge and fending off two Thuggee at the Imperial Base. The Chachapoyan Fertility Idol sits among the items at Watto's junk shop while the Capuchin monkey appears at the Mos Eisley Cantina looking for dates, and the Crystal Skull of Akator can also be found there. Jock Lindsey's plane, the OB-CPO, can be located at the Imperial Base as can the heiroglyphics of R2-D2 and C-3PO from the Well of the Souls.
Cast and crew
Edit
Persons who worked in both franchises
Notes and references
Edit
External links
Edit