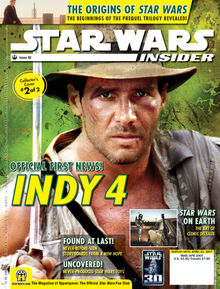 Star Wars Insider is the official magazine of the Star Wars Fan Club currently being published by Titan Magazines. The magazine began life as The Lucasfilm Fan Club Magazine, which was the title used for issues 1 to 22, and became Star Wars Insider with issue #23. Indiana Jones articles were few and far between once it became a Star Wars magazine. As well as the announcement of Indiana Jones and the Kingdom of the Crystal Skull in issue 92, numbers 93 to 100 showcased the Indy Vault by J. W. Rinzler before news on the franchise moved with the debut of Indiana Jones: The Official Magazine.
The magazine contains sections that focus on what is new in the Star Wars universe, events, fan fiction, excerpts from comics, exclusive previews, articles that explore the Star Wars universe in detail, questions and answers, and interviews. The magazine also features advertising and a catalog of Star Wars merchandise.
One section of the magazine is Bantha Tracks, created entirely by the fans of Star Wars and the magazine, with some issues printing art submitted by fans. Other sections include Ask the Master and Skywalking News.
Issues with Indiana Jones content
Edit
External links
Edit