Tan's Exotic Imports (also known as Archie's and Archie Tan Merchant) was the antique importing business owned by Archie Tan. It had a store and office in Chinatown, San Francisco. Knowing that he had many valuables that might be attractive to thieves, Tan had a secret storage room and a hidden basement in his facility.
In 1939, members of a tong tried to break into Tan's office to find artifacts that would help them locate the missing Charles Kingston. Indy discovered the place had been ransacked.
Behind the scenes
Edit
The name of Archie Tan's import store and floor plan is portrayed differently in each version Indiana Jones and the Staff of Kings.
Adventure at Archie Tan Merchant
Edit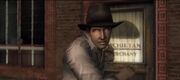 Adventure at Archie's
Edit
Adventure at Tan's Office
Edit
Appearances
Edit
Notes and references
Edit
Ad blocker interference detected!
Wikia is a free-to-use site that makes money from advertising. We have a modified experience for viewers using ad blockers

Wikia is not accessible if you've made further modifications. Remove the custom ad blocker rule(s) and the page will load as expected.