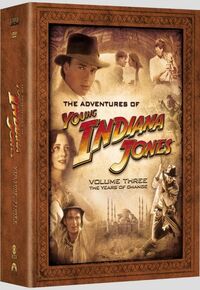 The Adventures of Young Indiana Jones: Volume Three, The Years of Change is the third of three DVD volumes of the The Adventures of Young Indiana Jones—the rebranding of the television show The Young Indiana Jones Chronicles. It was released in the United States on April 29, 2008, as part of the marketing push for the theatrical release of Indiana Jones and the Kingdom of the Crystal Skull.
The set contains ten discs, which contain eight chapters and thirty-one in-depth companion documentaries, interactive game & timeline, and an historical overview.
Disc One:
Disc Two:
Disc Three:
Disc Four:
Disc Five:
Disc Six:
Disc Seven:
Disc Eight:
Disc Nine:
Disc Ten: Interactive Bonus Disc
Notes and references
Edit
External links
Edit
Ad blocker interference detected!
Wikia is a free-to-use site that makes money from advertising. We have a modified experience for viewers using ad blockers

Wikia is not accessible if you've made further modifications. Remove the custom ad blocker rule(s) and the page will load as expected.