The Lucasfilm Fan Club Magazine was the official magazine of the Lucasfilm Fan Club. It was first published in 1987 by The Lucasfilm Fan Club, Inc, based in Aurora, Colorado, and ran for twenty-two issues before changing its name to Star Wars Insider with issue #23. Issues seven through ten, and issues thirteen, fifteen, sixteen and eighteen featured Indiana Jones-related covers.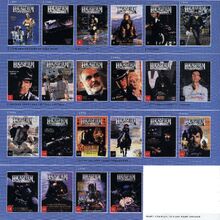 External links
Edit
Ad blocker interference detected!
Wikia is a free-to-use site that makes money from advertising. We have a modified experience for viewers using ad blockers

Wikia is not accessible if you've made further modifications. Remove the custom ad blocker rule(s) and the page will load as expected.