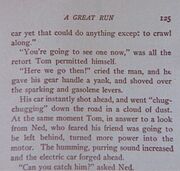 Tom Swift is the lead character in an American series of adventure novels authored by Victor Appleton.
Indiana Jones, who dated Appleton's daughter in 1916, was an avid reader of the Tom Swift books which included Tom Swift and his Electric Runabout, Tom Swift and his Sky Racer, and Tom Swift and his Great Oil Gusher.
Appearances
Edit
External links
Edit
Ad blocker interference detected!
Wikia is a free-to-use site that makes money from advertising. We have a modified experience for viewers using ad blockers

Wikia is not accessible if you've made further modifications. Remove the custom ad blocker rule(s) and the page will load as expected.