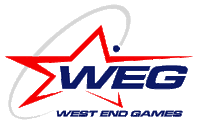 West End Games (WEG) was a game company that produced roleplaying games. During the 1990s, it held a license to produce a game and supplementary material set in the world of Indiana Jones.
The World of Indiana Jones roleplaying game was intended as a flagship for WEG's "MasterBook" system; all MasterBook titles used the same game mechanics. The system flopped, however, and in 1996 the company released Indiana Jones Adventures, describing how to play the game using the alternate "D6 System" rules.
In 1998, financial troubles caught up with the company, and it was forced to declare bankruptcy. As a result, WEG lost the licenses to a number of properties, including Indiana Jones.
List of WEG Indiana Jones books
Edit
External links
Edit