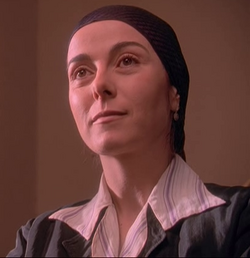 Zuhal Olcay (born August 10, 1957) is an actress and singer who portrayed Halide Edib in "Istanbul, September 1918" (later edited into Masks of Evil).
Olcay's appearance on The Young Indiana Jones Chronicles is her only credited role in an English-language production. Some of Olcay's feature film credits include Amansız Yol (Desperate Road), Halkalı Köle (Slave of the People), Bir Avuç Gökyüzü (A Handful of Sky), Abschied vom Falschen Paradies (Farewell to False Paradise), Kara Sevdali Bulut (Cloud in Love, with future husband Haluk Bilginer), Salkım Hanım'ın Taneleri (Mrs Salkım's Diamonds), and Hiçbiryerde (In Nowhere Land); while her additional television appearances include the miniseries Seni Çok Özledim (I Miss You So Much) and a regular role on Yüksek Sosyete (High Society).
Olcay has also released multiple solo and collaborative albums in Turkish, beginning with Küçük Bir Öykü Bu (A Little Story) in 1989.
External links
Edit
Ad blocker interference detected!
Wikia is a free-to-use site that makes money from advertising. We have a modified experience for viewers using ad blockers

Wikia is not accessible if you've made further modifications. Remove the custom ad blocker rule(s) and the page will load as expected.